Not gonna be in New York for Gizmodo Gallery? We've teamed up with the Real Art Design Group to bring the biggest claw game in the world to New York. But if you want to play it, stay home.
The Santa Claw is the Colossus of claw machines. The 2000-pound beast makes that toy at your local diner feel insecure. It's physical hugeness is dwarfed only by the reach of its massive claw: during the gallery, people from all over the world will be logging on to Gizmodo to play from wherever they are. How? Think of the The Santa Claw as the Turntable FM of claw games. You can only play the game online. Players wait in virtual line and control the claw using a slick, graphic interface which beams live video back to them as well as to anyone else who happens to be watching. It's a lot of people. The last time the Real Art Design Group ran the game 100,000 people played, 4000 won and the virtual line was almost 500 people long at anytime of day. WARNING: YOUR FAILURE TO SUCCESSFULLY OPERATE THE SANTA CLAW WILL NOT GO UNNOTICED.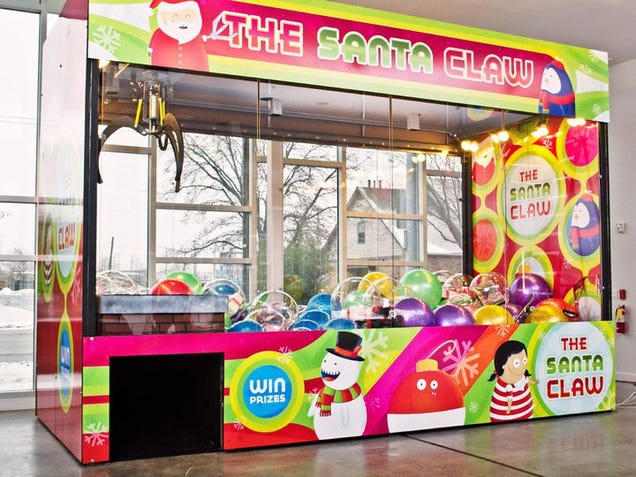 As you play online, visitors to Gizmodo Gallery will anxiously watch and wait. If you manage to grab one of the colorful balls inside The Santa Claw and drop the ball down the chute it will spit out into the gallery. The lucky visitor who scoops it up gets the prize. Don't worry, during our open hours we'll be stashing super special balls amongst the brimming heap and if you grab one The Santa Claw's system will record your information and we'll ship your prize directly to your home. Finally, Santa will actually bring you something. What are the prizes? What's so special about the super special balls? We'll let you know closer to opening day. Let's just say there's going to be good stuff. Loot. Gear. Delightful things. Not just Star Wars toys—well, maybe one.
Read more about the Gizmodo Gallery here and follow @gizgallery on Twitter. Special thanks to Land Rover - without them, there would be no Gizmodo Gallery.