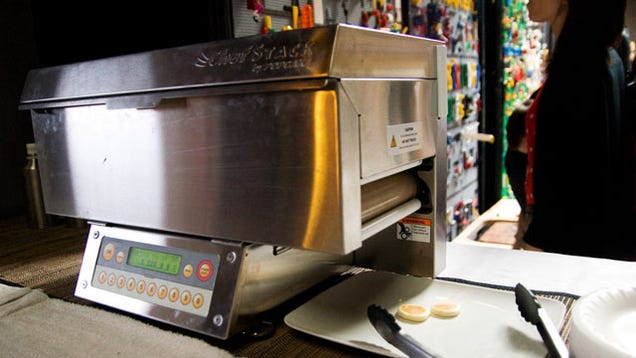 We've had delicious pancakes on our minds lately, because the ChefStack is making its triumphant return to Gizmodo Gallery this year. Last time around, the automatic pancake machine made more than 6000 pancakes. Bet we can do better this year.
It's no overstatement that The ChefStack is the apex of human culinary automation. Just plug in a bag of pre-mixed batter, hit start, and the machine churns out an endless line of pancakes. It's Henry Ford meets your mom's kitchen. Oh the immeasurable quantities of pancakes we will make at this year's Gizmodo Gallery. Woke up late and want breakfast? Stop by the gallery, we'll feed you. Getting off work and need a snack before dinner? We've got you covered. We've stocked up on enough batter to feed thousands and thousands of visitors the ChefStack's fluffy, hot goodness.
Don't like pancakes, you say? We're about to make a liar out of you.
Read more about the Gizmodo Gallery here and follow @gizgallery on Twitter. Special thanks to Land Rover - without them, there would be no Gizmodo Gallery.