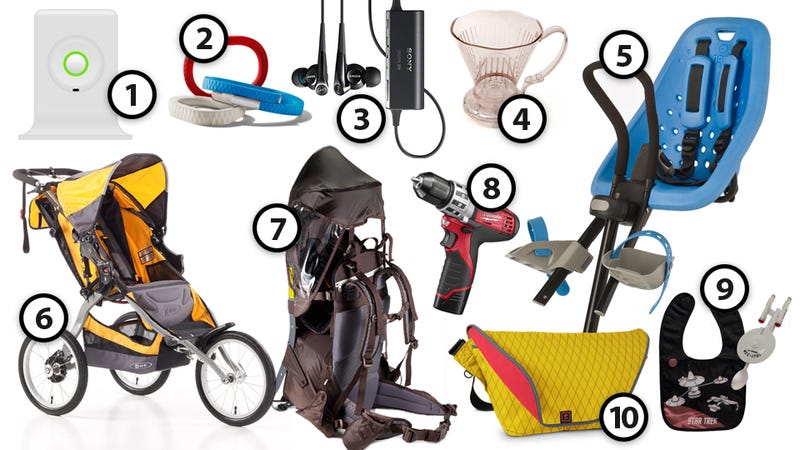 Babies are so adorable! And so very much trouble. They're always hungry, often crying and never sleeping. But here's a little secret: fatherhood can be a great excuse to gear up. Oh man. I'm totally lactating.
---
1. Evoz Baby Monitor
the most basic thing you need to do with a new kid is make sure the little fella is okay. But that doesn't mean you want to stay right by their side 24 hours a day. New dads need a break, and a beer. The Evoz system lets you use either a standalone audio monitor, or any iOS device with a microphone. It tracks how long your child is asleep, and can send you text alerts (or call) when your baby is crying. But the best part is that it doesn't rely on radio signals. It uploads audio through a central server, and can broadcast it to any other iOS device. Which means you can listen in not just from the other room, but the backyard, the office, and yes, the bar.
$180 for audio monitor plus one year of service [Evoz]
---
2. Jawbone Up
With that monitor alerting you every time the baby cries, you're going to be up a lot of the night. While this UP will count your steps and track your meals and generally help you discover more about how you're living, new papas will 'preciate the sleep tracker. It shows how long you're snoozing, how long you're awake, and what the quality of your sleep was the night before. And while you may think this device is all about tracking yourself, but it's also useful for tracking your kid. If you're getting up with the wee 'un, it also makes a fine way to see what his or her sleep patterns are like.
NOTE: Due to a manufacturing defect affecting some customers that causes bands to stop working, I can no longer recommend this product. Please see the full review for more information.
$100 [Jawbone]