We're compulsive in our gear-hoarding. Just look at the huge number of gadgets we've assembled for Gizmodo Gallery. Where the hell are we going to put all that stuff? The modular storage specialists at Vitsoe are giving us a hand.
You know what we love most about Vitsoe? It's a great-looking product that does what its supposed. NO BULLSHIT. The 606 Universal Shelving System was developed by the legendary Braun designer Dieter Rams in 1960, and in a lot ways it is the basis for everything we talk about when we talk about storage—interchangeable parts applied to the art of decluttering. The shelving system is based on a few key components which can be arranged, rearranged, replaced, disassembled, shipped, and built all over again. Past Perfect in every way.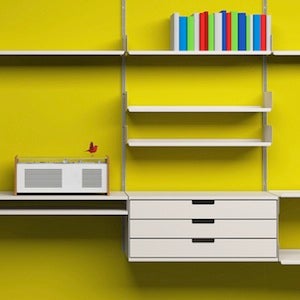 We have a mess of badass stuff we need a hand with, and thanks to the custom designers at Vitsoe, we're going to have it all under control—the dimensions of every single item in the Gallery have been meticulously accounted for. It makes our eyes bleed when we look at the decidedly un-custom shelves in our apartments. Sigh.
Read more about the Gizmodo Gallery here and follow @gizgallery on Twitter. Special thanks to Land Rover - without them, there would be no Gizmodo Gallery.