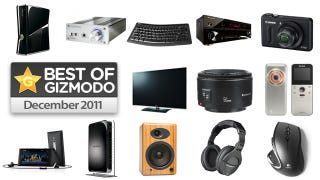 December is here and it's a time of family and coming together and having awkward, passive-aggressive fights and wearing ugly clothes your great aunt made for you and drinking eggnog until you pass out drunk in your grandma's JELL-O mold. But it's also a time for shiny new gadgets! Here are some of our favorites from the past month.
---
In:
Best Budget Headphones
With a closed-back, over-the-ear design, and a durable design that has some portability, the Sennheiser HD280 cans are the king of the budget earphone mountain. They're not the cheapest, or the smallest, or the best looking, but they strike the best balance between clarity and resolution and the ability to handle multiple genres of music old and new.