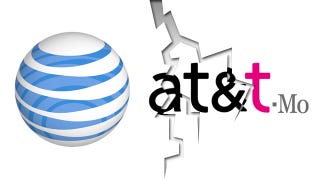 AT&T's highly controversial $39 billion bid to become the biggest carrier in the United States by swallowing T-Mobile is over, eight months after it started.
Here's what AT&T says about dropping the deal:
The actions by the Federal Communications Commission and the Department of Justice to block this transaction do not change the realities of the U.S. wireless industry. It is one of the most fiercely competitive industries in the world, with a mounting need for more spectrum that has not diminished and must be addressed immediately. The AT&T and T-Mobile USA combination would have offered an interim solution to this spectrum shortage. In the absence of such steps, customers will be harmed and needed investment will be stifled. [emphasis mine]
The T-Mobile bid was first announced last March. The proposed deal would have merged AT&T's 76 million customers with T-Mobile's 34 million customers to make it the largest carrier in the United States. Its 110 million customers would have dwarfed AT&T's closest competitor Verizon, which has 94 million customers.