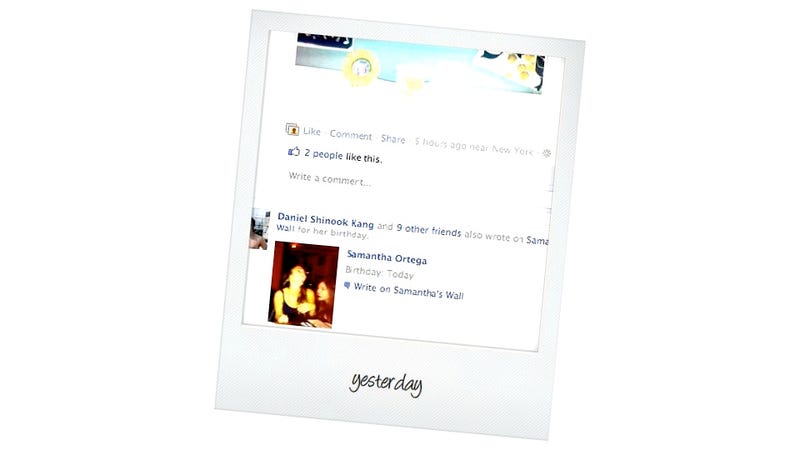 The web used to be about other people. IMing your friend, emailing your wife, a chatroom with other guinea pig enthusiasts. Now it's turning around. Information is becoming less important than emotion—the web is an empty nostalgia factory.
When everything is worth becoming a memory, what's that say about remembrance? If everything is the object of nostalgia and reminiscence then I don't really know what those things mean anymore—it would seem to be nothing. We're reaching that point.
Technology has not only made it easier to long for the past, it's made it tempting—and at times unavoidable—to strangle ourselves with an overload of fake nostalgia. Through their abundance and laxness, memories have been cheapened like few other things by the internet by sites like Timehop, which unifies existing nostalgia feeders into a daily digest of your social media footprints. Its creator calls it a "digital wave of nostalgia"—reminders of where you checked in, what you photographed, and what the weather was like a year ago each day are served up automatically. "Memories delivered daily to your inbox!" A bar I checked in to a year ago. I forgot about it. Now I remember. Proof that I existed a year ago—something to grasp. "A daily email that brings it all back to you," Timehop calls itself. All of what?
We Instagram our burgers, our trips to the mall, our beers, our sunsets.
We check in to every trivial appointment, errand, and coffee on Foursquare.
And now, Facebook has turned into the largest, clearest mirror ever produced by the internet, expressly designed to chronicle our lives—and to dig deep down into the primordial muck of our social ancient history. With a few clicks I can pore over every exchange I had with every freshman year dorm friend, every high school well-wisher, every photo with a fake friend I met at an internship, and the rest of the detritus and minutia.