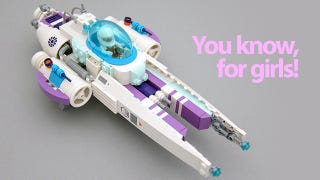 The cool space fighter above was created with bricks from Lego Friends' Butterfly Beauty Shop, Olivia's Invention Workshop, Stephanie's Cool Convertible, and Emma's Fashion Design Studio. It proves one thing: feminists criticizing the new Lego Friends sets just don't get it.
When I first saw the new and controversial Lego Friends I hated it too. It wasn't the colors—I like the colors—but those stupid figurines and the branding. I found them as nauseating as the branding and styling of dolls like the Bratz. How could Lego argue that they spent millions in researching these? They were horrible and stereotyping.
Except they are not. Not really, after you play with them.
The pieces on the sets are fine. They are just Lego pieces. Interchangeable, functional, flexible. Neutral. They are not special for girls. The instructions are ok too. Sure, they are for making a beauty shop or a pastel convertible. But kids don't have to follow them.
In fact, they will break them and create new stuff, as it always has happened. That's the whole point of Lego.
I know because I've been building them since the late 70s, the golden era of Lego, when I was a little kid putting bricks together with my brothers and my sister.