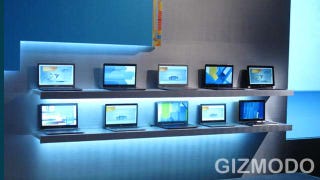 The ultrabooks you've seen these last few months—and that, good lord, you're going to see in drove these next couple of days? They're plenty capable, sure. But they're pretenders. The real deal, the ultra ultrabooks? Those are still a few months away. And when they get here, they're going to be fast.
The battleground laid out by Intel's Mooly Eden—who, it's worth noting, has tied with Samuel L. Jackson for "Best Use of Kangol" for at least 10 years running—is that laptops are for doing things. "Consumption is good for cows," said Eden, "We are humans." The implicit argument: tablets are fine for show, but ultrabooks are for go. And based on some of the features the company showed off today, it's a hard point to argue.
You can compress 100 sizeable pictures into an easily emailable 2MB file without overtaxing the CPU. DX11 graphics support. Built-in anti-theft technology (a convenient side benefit of that McAfee acquisition). NFC is along for the ride as well. It's a full, comfy suite, the kind of action that—remember—comes in a razor thin package.