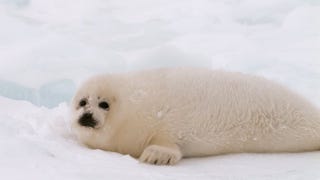 Harp seals use sea ice as their chilly love nests, and after the lovin' leads to babies, parents nurse for just 12 days before the pups are on their own. But their ice dens have been melting beneath the baby seals, and when that happens, their chances of survival are slim.
And according to a study published recently in PLOS One, this melting has been happening more and more in recent decades. In 2007, 75 percent of newborn seals off the east coast of Canada died. In 2010, scientists believe almost none survived.
The culprit (as with the so far, but seemingly about to change, warm and dry winter in much of North America), is the North Atlantic Oscillation index, a climate pattern determined by differences in sea-level pressure. When the index is negative, our North American winters are cold and snowy, but conditions across the North Atlantic region from Canada to Russia will be comparatively mild. In 2010 when all the baby seals died, the winter NAO index dropped to −4.64, and ice conditions were the lightest on record in the Gulf of St. Lawrence, a region when harp seals like to hang out.