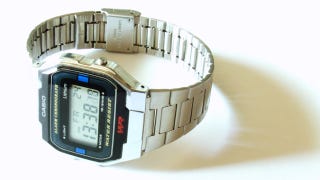 A lot of people obsess about fancy watches which are waterproof to 300 meters, have chronograph faces, or come with diamond-crusted faces. But I've got news for you: nobody ever made a watch any better than the humble digital Casio.
Let me start with a disclaimer: I own a fairly expensive Oris. I forget exactly which model, but it is a lovely piece of engineering. It feels solid, looks beautiful, and I wear it largely on special occasions.
But my other watch, in the time-keeping equivalent to a bumper sticker, is a Casio A163W. For those of you not familiar with such things, that's the silver version of the notorious, black plastic Casio F91W. Yes, you can buy them everywhere. Yes, thousands of people wear them. Yes, it's very similar to the one that the US Military claim terrorists wear.