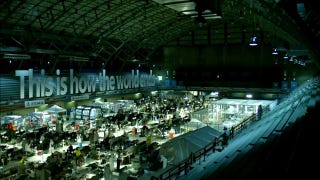 The scientists who created an airborne and extremely contagious strain of bird flu say they are temporarily halting their research for 60 days. Oh good! Looks like we don't have to be cripplingly terrified until April.
A two-month hiatus is perhaps not all that comforting, but it does buy time for scientists around the world to seek the best way to deal with some of the most dangerous research on earth. Whether the research should continue is one issue, another is whether the work should be published in a scientific journal where anyone could read it.
In November at an influenza conference in Malta, virologist Ron Fouchier announced that he had created "probably one of the most dangerous viruses you can make." In December, U.S. health officials urged Foucher and another group at the University of Wisconsin–Madison who performed similar research not to publish their recipe for the super deadly avian flu strain, which could kill half the world's humans.