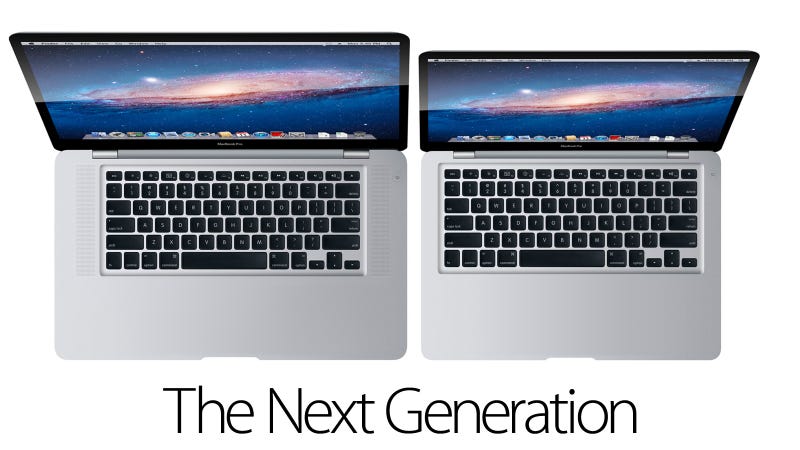 Have no doubt about this: Apple is revamping their MacBook Pro line in 2012 in a radical way—not merely evolutionary. We know this not because of the usual rumors, but because there is no way this will not happen.
This is what we expect.
A radical but logical change
When Steve Jobs said that the MacBook Air was the future of laptops, he was right. To the disgust of a vocal minority, Apple destroyed lots of ancient technology with the Air. They simplified its guts and squeezed its industrial design to create an amazing machine. The result was a huge success—and the whole industry started their photocopiers once again.
It's only logical that they will take the same steps with their MacBook Pro. It's not only a rational consequence of the Air, it's also extremely convenient for their bottom line and their public image: The new MacBook Pros—and not the beefed-up iPad 3—will be the first real test for the new executive team at Apple.
They need to make a statement. Here's how.
Faster guts
The new MacBook Pro will use Ivy Bridge, the new Intel 22-nanometer architecture with 3D transistors that will provide quite a speed boost over the current MacBooks. Intel estimates that it Ivy Bridge will provide a 20 percent performance boost with comparable Sandy Bridge laptops. Ivy Bridge also provides a 30 percent boost in integrated graphics performance, although these machines will use something stronger to drive graphic intensive applications (more on this later).
No hard drives
Screw the hard drives. It's antiquated technology with a negative impact on battery life. Apple loves SSD and Apple users love SSD. They may not be the cheapest, but it's the fastest, safest and most power efficient storage technology for mobile devices. Moving their entire laptop line to SSD will also give them more buying power, which will help them keep the same price and benefit margins.
SSDs are also key for speed. In fact, for most consumers, it's also one of the key factors to boosting speed perception, even more than the processor and the graphic cards. When everything loads and saves almost instantly, people instantly get it, which is what happened with the Air.
No legacy stuff
The new MacBook Pro 2012 line will get rid of legacy technology. That means no more optical drives, and no more Ethernet port and FireWire. These machines will have nothing but a bunch of Thunderbolt and USB ports, plus the SD memory card reader, just like the MacBook Air. By taking this out, the new machines will save space and simplify the electronics on board.
I can't remember the last time I used my optical drive. All my media and application consumption goes through online services, like Netflix, Amazon, Hulu and iTunes. Apple and thousands of developers have already shifted to 100% digital downloads for software distribution. The optical drive is dead.
And I can't remember the last time I used my Ethernet port. Most consumers are in the same position. And while FireWire is the only point of conflict I may have—since I use it for backups and extra disk space—an adapter will easily an cheaply take care of any legacy equipment. In fact, there's plenty of Thunderbolt adapters at this point, for FireWire, Gigabit Ethernet, and even PC Cards.
Retina-ish display
The machines will have a high definition Retina-ish display. This is part of Apple's ongoing move to HiDPI.