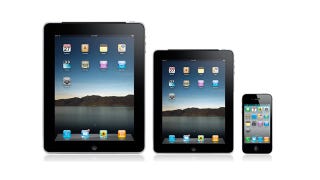 There's a Wall Street Journal article you should know about, if you don't already. It's about Apple doubling one of its most popular product lines, introducing a smaller, more affordable version to keep up with tough Android competition. The story broke on Valentine's Day, a tidy love note to Apple fanboys and fangirls everywhere.
I'm talking, of course, about this: last year's promise of a teeny, tiny, half-price iPhone. Why, did you have something else in mind?
Let's be clear about something right off: just because Apple didn't release a smaller, cheaper iPhone last year doesn't mean that Apple wasn't working on one, or didn't seriously consider releasing it. And I'm not doubting that the WSJ has sources who are intimately familiar with an 8-inch iPad prototype that's been assembled and poked and prodded in some dark Cupertino back hallway. Its report this morning isn't a fantasy. But it does ignore the one thing that we've always known about a smaller iPad: it'll never happen.