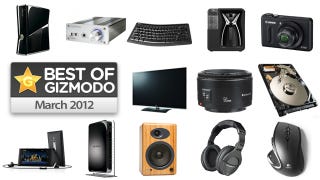 The winter is slowly winding down, and now you are very fat. That's depressing. But it's not a serious problem for a few more months, so you may as well sit back and enjoy some awesome gadgets. Here's the best of the past month (or so):
---
In:
Best Big Screen 3D HDTV
The Sharp Aquos Quattron's screen is taller than the average American man. Its called Quattron because there's a fourth color-yellow-in its sub-pixel arrays (these colors are mixed to create the shade for each individual pixel), allowing it to generate nearly a trillion potential color shades, and the amount and degree of picture controls made calibrating the set dead simple.