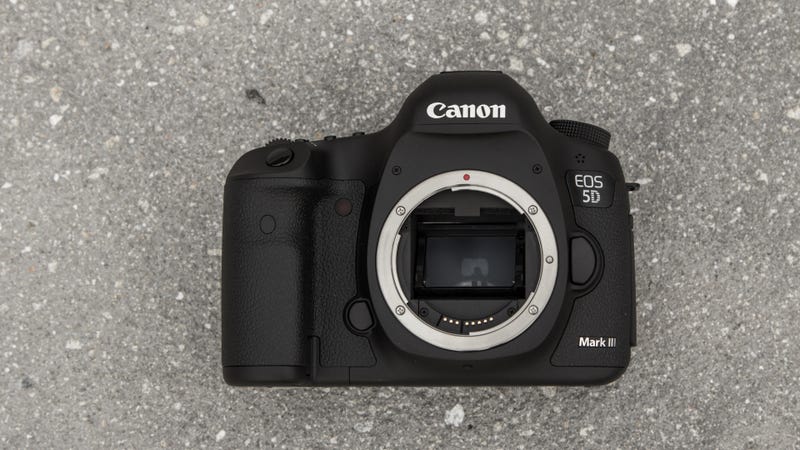 Nearly five years ago, the Canon 5D Mark II changed cameras forever by turning video into a DSLR feature. It became the darling of indie filmmakers, war photographers and anyone in between who had a need for incredibly convenient, visually distinctive moving pictures. It still is. But it's about to get one-upped. Holler at the Canon 5D Mark III.
While the Mark II broke new ground, it's outdated. The Mark III promises refinement and sharper tools: better photos and video that's easier than ever. This is not a coup-de-camera so much as a revolution more fully realized—a more perfect $3500 DSLR. What you get is a revamped full-frame image sensor, and Canon's new Digic 5+ image processor. The Mark III promises to be faster, more powerful, and more versatile than the beloved 5D Mark II. Canon says it will deliver better photos in the dark, more video options, and precision control over your shots. Will this be the new photographer's workhorse?
The New Sensor
Let's start where the image-making magic happens: the sensor. The 5D Mark III's 22.3-megapixel, full-frame sensor is brand new. Discerning readers will notice that the slight bump up from the Mark II's 21.1 megapixels means more pixels in the same size sensor. Which means that the pixels are now slightly smaller. You might think that this could hurt image quality in poor lighting conditions, but Canon claims that just the opposite is true, that the pixels actually get more light now because of the way the new sensor is designed. Its gapless micro lens design supposedly lets more light in—we haven't tested this yet, but its the same tech as used in the 1 DX, and that thing is a low-light monster. The electronics of the sensor are also more efficient than before, which helps reduce noise.