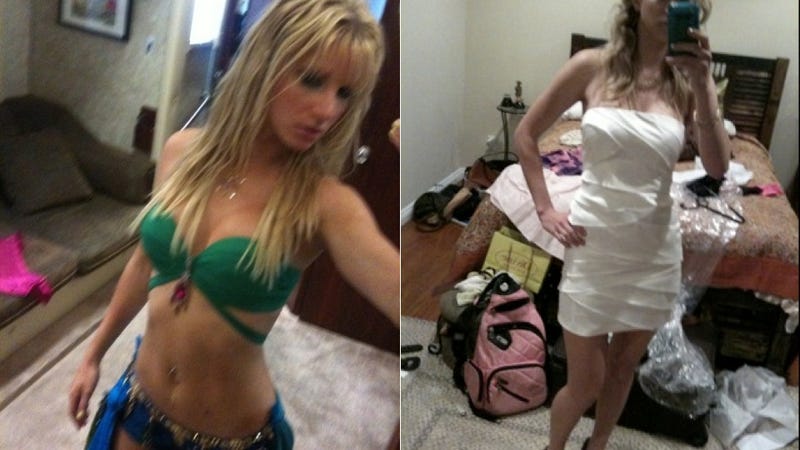 What a way to start the week! Body-worshipped Hollywood TV brass Christina Hendricks (of Mad Men fame) and Olivia Munn (of, uh, yeah...) Heather Morris (of Glee cheerleader fame) has had her body posted across the internet due to unwanted cellphone prying. Yes, it happened, again.
The images—grainy and certainly phone-birthed—range from salacious to full on bare-breasted, and appear to have been taken on both a phone and webcam. Hendricks' people deny on the fully nude shot. Munn, on the other hand? Who knows! Does she have a publicity rep, or do her creepy nerd fanboys speak for her through Reddit? We're awaiting a statement. We do know that her pics—allegedly intended for a boyfriend at the time—date back to 2009, and were taken on two different BlackBerries, judging by EXIF data stored inside the images.
The shots appear to have been taken with an iPhone 3GS, based on EXIF data, and thanks to our modern era of embedded GPS, we know at least one of the racy pics was taken directly inside Paramount's studios.
But the lesson here remains the same. As we said when this happened to ScarJo: If You Are Famous and Take Nude Photos of Yourself, They Will End Up on the Internet. As impossibly good looking people, pictures of your impossibly attractive body are coveted by legions of Internet People who want to look at them briefly, email them around, grin, high five, and then go back to work. And there are a select few with the guile to yank those photos off your phone—where they are certainly not safe: