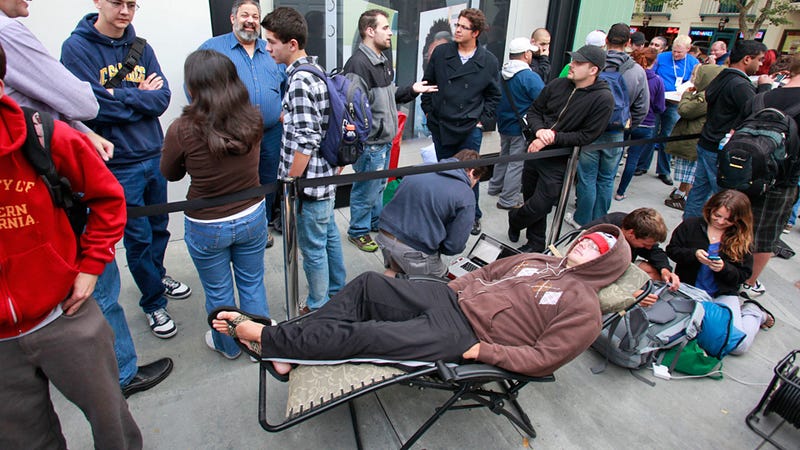 First of all: don't do this, it's dumb. But if you absolutely HAVE to spend three days camped out in front of your local iStore to get your hands on the new iPad, here's everything you're going to need to survive the soul-crushing ordeal.
With three days to kill you're not going to spend the entire time standing. You need a comfy place to sit, and a folding lawn chair isn't gonna cut it for that long. We recommend Sumo's over-sized beanbag chairs instead, which are actually filled with polyester fibers in lieu of beans so they won't compress over time.
The Gamer model pictured above has already proven itself as the perfect place to plop down for long gaming sessions, so it should easily endure a three day wait with fanboys who will put console devotees to shame. $200
As excited as you are to talk about how amazing the new iPad is going to be all day long, at some point you're going to need to sleep. And if you're lucky enough to be located between a couple of street poles, this hammock sleeping bag is a great solution.
It keeps you off the ground away from the local wildlife, and it's engineered so the sleeping bag's padded lining doesn't get smooshed against the hammock, minimizing its insulating properties. In other words, you'll stay warm, safe, and probably even look extra obnoxious to passing strangers. $180
This photo-blocking beer cooler was designed to prevent photos of your late-night drunken antics at the club from showing up on Facebook. But it will work just as well when it comes to preventing local bloggers from photographing and mocking your devotion.