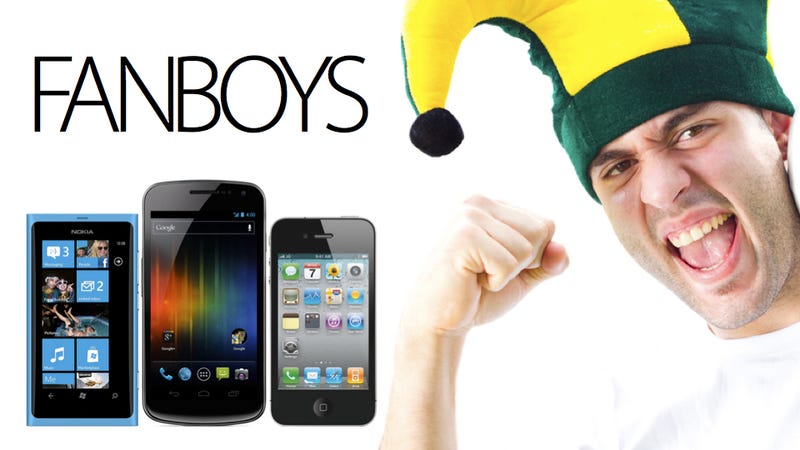 In the '90's, no nerd-debate was more contentious than that over the "Best" computer operating system. Were you Windows or were you Mac (or Linux)? Rifts formed in communities, hateful epithets were hurled, and friendships were destroyed. It was the geek equivalent of the abortion rights debate.
This war is still being fought, but its once-blazing fires have been reduced to ever-smoldering coals. Why? Because there's something better to fight about, and this time… it's in your pants.
Today, the fight is over phones. Especially smartphones. We defend, with venom, not only our chosen operating system, but also our chosen hardware manufacturer, and even our chosen service provider. Was a similar phone war waged when push-button began supplanting rotary? Probably not? Nor was the battle as fierce when cell phones just made calls and sent text messages. It's the "smart" in our smartphones that seems to have really set this quarrel ablaze, and maybe with good reason.
In 2009, famed Dilbert creator Scott Adams wrote one of my all-time favorite blog entries, wherein he claimed that we are already cyborgs, and that our smartphones are, in essence, a sort of exobrain.
Your regular brain uses your exobrain to outsource part of its memory, and perform other functions, such as GPS navigation, or searching the Internet. If you're anything like me, your exobrain is with you 24-hours a day. It's my only telephone device, and I even sleep next to it because it's my alarm clock.
This really resonated with me. I think about how many phone numbers I had memorized before I had a cell phone. Sure, I wrote many down, but I had dozens stored in my head. Now? Maybe… five? And I don't even know if all of those count, because some are family members who haven't changed their numbers since I was a kid. The last five times I've visited L.A. I haven't looked at a map once. I just paired my phone to my rental car via Bluetooth listened to the turn-by-turn directions. The fact alone that we now have constant access to online dictionaries, encyclopedias, music recognition apps, and everything else that the internet can provide is a very serious augmentation in knowledge and function, even if we don't then store what we learn in our meat-brains.