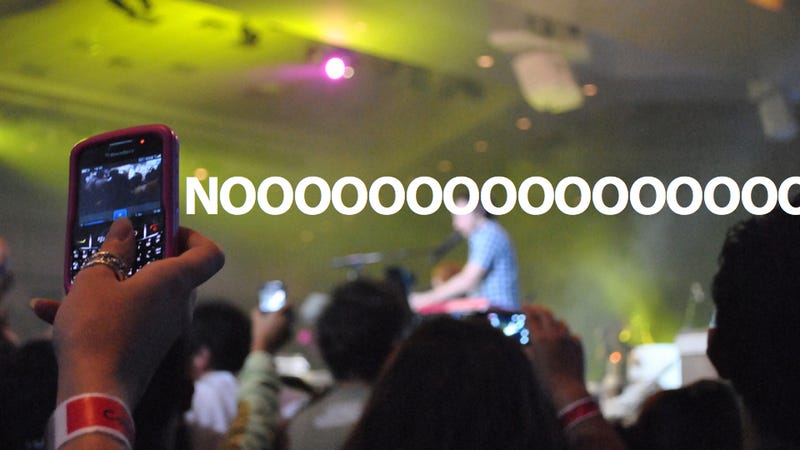 Standing behind a giant person at a concert is an old, analog problem. Today's audience angst comes largely from a blinding mass of giant phones. All around us undulates a constant sea of LCDs. Annoying! You can use your smartphone at a concert, but don't be unbearable.
It's simple to understand. The experience itself isn't worth as much anymore—but the opportunity to take a blurry picture of a guy singing? Worth any ticket price. We all do it, because the experience of sharing stuff has begun to usurp the importance of doing stuff. We have no qualms about distracting ourselves and others from the actual live music in front of us if it means a decent YouTube upload or Facebook shot on the way home.
Let's try to be better, people. A few things to consider:
You're probably not going to get any good pictures
Here's the most important reality: Concerts are held in dark rooms with occasional pulses of extremely bright lights/lasers/smoke machines/flames/sequined dresses/etc. It's almost as if camera manufacturers conspired to create some doomsday scenario for photography—these places couldn't be less ideal for a camera. Especially if you're using a phone's camera.
Today's phones take pretty stellar shots—enough to render the ol' point and shoot useless. But your iPhone or Nexus is still stuck with a relatively dinky sensor and lens compared to cameras the pros use. In the low light of concert, you're almost certain to get a picture that's either blurry or noisy, and likely both. It won't look like Katy Perry—it won't look like much of anything.