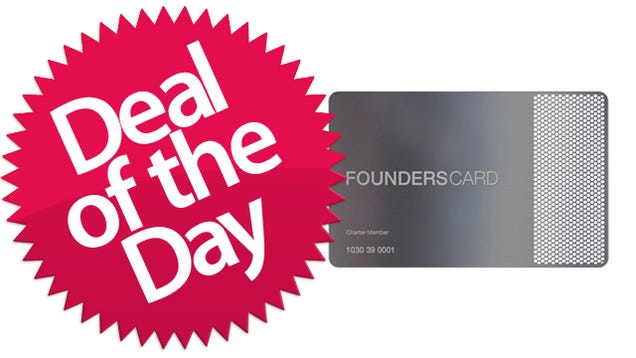 My wallet consists of just a few bank cards, a credit card (not colored in the shade of any precious metal), and a Korean drivers—no idea how that got there—nothing to get me in anywhere special. The closest I've come to a decent membership was a one month deal at the Church of SubGenius, but I was voted out for rules violations. And it's not just that I want any old membership card in there. I want something of some importance. Something that gets me deals on custom suits, phone plans, cabs, maybe a little bit of Gilt City or Task Rabbit. Am I right?
Yes I am right
. But! Then there's FoundersCard, the Black Card for entrepreneurs (who don't already own a Black Card). You can grab it today for 40% off, and spend a lifetime slipping behind all kinds of velvet ropes. Because doesn't your wallet deserve to feel important, too?
Top Deals
= Free
= Refurbished = Rebate
If a deal looks too good to be true, investigate the store and see if it's a good, reputable place to buy. Safe shopping!
[
Thanks TechDealDigger, Dealzon, FatWallet, Brand-Name-Coupons, Logic Buy, GamerHotline, Cheap College Gamers, CheapStingyBargains, TechBargains, Slickdeals.]
Follow Dealzmodo on Facebook

Dealzmodo is a gift from Gizmodo to you. We search the web for the best savings and deals on computers, TVs, games, etc. and deliver them to you in a daily list. Think of it as a modern day coupon book for technology and gadgets.
dealzmodo "dealz of the day" "deals of the day" "gadget dealz" "app dealz" deals dealz hobomodo top