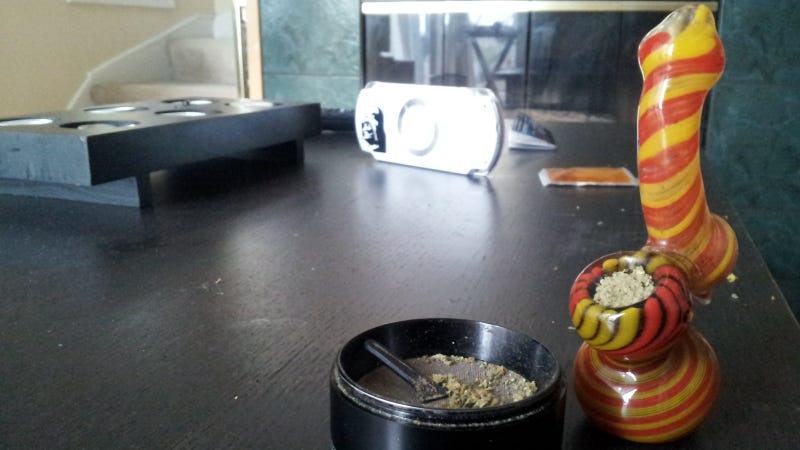 Roll that spliff phatly, pack some fresh ice into the binger, and set the Volcano to "toastify." It's time for tonight's Stoner Channel. We've collected our best high-times material for the discerning pothead so sit back, relax, and pass that shit on the left, yo.
Click here for more hits from the bong.
This happy little bubbler comes to us from reader Jeremy C
President Obama sat down with Latin American leaders last week as part of the Summit of the Americas and our decades-long Drug War was among the topics.
Many in Latin America are increasingly frustrated with the tolls the illegal drug trade takes on their countries—especially given that most of the drugs are flowing into the US—and are beginning to push for legalization as a means of stemming the tide of violence.
The president was having none of it. "I think it is entirely legitimate to have a conversation about whether the laws in place are ones that are doing more harm than good in certain places," he said during an informal panel discussion hosted by Juan Manuel Santos, Colombia's president. Obama added "I personally, and my administration's position, is that legalization is not the answer." He fears that, with legalization, drug production would "dominate certain countries if they were allowed to operate legally without any constraint," and "could be just as corrupting if not more corrupting then the status quo." Check out the rest of the story at the NYT. Image: Carolyn Kaster / The AP
Stupidity Caught at 2500FPS
Finally, now I finally know what happens when you shoot fireworks into nine gallons of flammable paint! This awesome video of things slowly exploding was created for the Danish TV show "Dumt & Farligt" and filmed with the pimptastic Phantom Flex. If you have any clue what the title translates to, tell us in the comments.