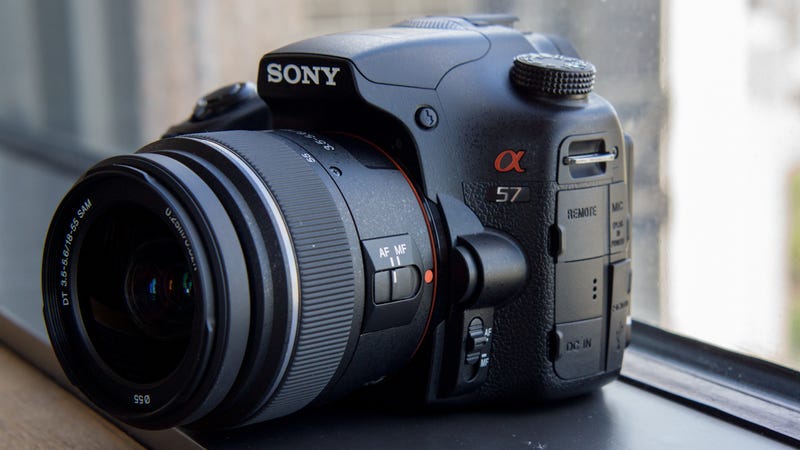 Sony's latest $700 Alpha camera sure looks like a budget DSLR, huh? Well it is. But our hands-on today has us thinking it might just perform above its paltry price tag.
The A57 handles as well as any budget DSLR we've ever tried—even better at times. The camera is a tweaked version of the 2010 A55—except that Sony actually made the camera larger rather than smaller. Equipped with an updated 16.1-megapixel, APS-C sensor and Bionz processor, improved low-light handling to ISO 16000, continuous shooting at 10FPS, built-in digital viewfinder, and 1080p recording at both 24 and 60 FPS. It may not seem like they changed a lot, but the little things add up.
And there are cosmetic changes, too, with an improved grip and larger body. It seems counter-intuitive, I know, but the result is that the camera feels sturdier to hold—like a real, big-kids camera, and not just like something you cheaped out on.
What do you get? Well first of all, you get a freaking fast camera. This A57's shutter release peels off frames as fast as any other we've tried. Pardon the lofty comparison here, but the 10FPS, machine-gun continuous shooting is the closest thing we've felt to the crazy-fast $6000 Nikon D4 we tried back at CES.