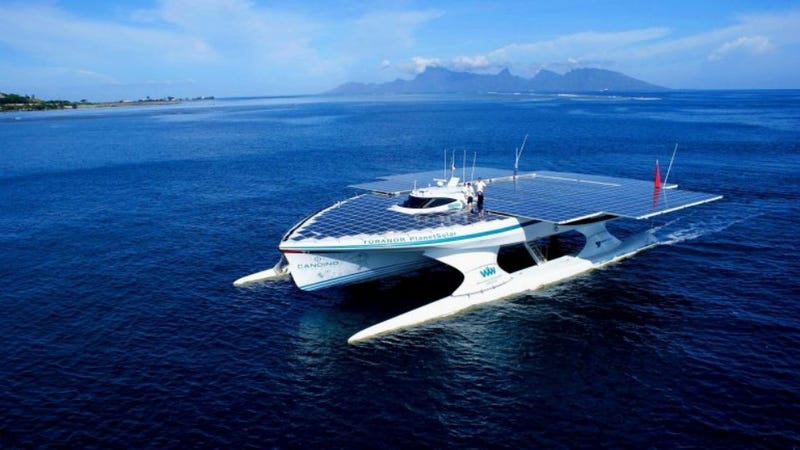 Sailing 60,000 kilometers—more than 37,000 miles—is an impressive feat even aboard modern luxury yachts. It's downright astounding to do it without using a single drop of oil.
At 102-feet long and 49-feet wide, the €12.5 million MS Tûranor PlanetSolar is the largest solar-powered ship to sail the seven seas. It just became the first watercraft to circle the planet using nothing but the Sun's energy.
Built by German boat-building firm, Knierim Yachtbau, the MS Tûranor PlanetSolar cost €12.5 million. Its deck is covered in 5,780 square feet of solar panels—38,000 individual photovoltaic cells—producing up to 120kW of electricity. That's fed to six massive Li-Ion battery blocks which, in turn, power four electric engines. These engines drive a pair of six-foot-wide, semi-submerged, counter-rotating carbon propellers—eliminating the need for a rudder and propelling the MS Tûranor at a respectable 14 knots. Granted, it can't keep up with massive cargo ships like the Emma Maersk, but it also doesn't burn 13 ounces of diesel fuel per revolution.