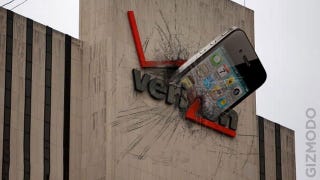 Unlimited data on Verizon is dead. The death rattle just wheezed out during Verizon Communications CFO Fran Shammo's dream-killing presentation at the JP Morgan Technology, Media and Telecom conference. Everyone with a grandfathered unlimited data plan will be forced to switch to a tiered plan when they upgrade to LTE. It's absurd, warrantless, and sadly, typically, aggressively anti-consumer.
Killing unlimited—especially grandfathered plans—was always going to piss off, well, everyone, but Verizon thinks it has a good reason. "Everyone will be on data share," Shammo said. All customers will be forced onto Verizon's new shared data plans once their upgrade cycle comes around, which are in theory easier to manage for multi-device families. Except that doesn't really pass the smell test.
Here's the thing: shared plans aren't evil. They actually make some sense with the amount of wireless devices we carry around at this point. Phones, tablets, MiFis, even 3G laptops are getting pretty good. And a shared, unified data plan would keep you from having to pay for a MiFi, an iPad, and a smartphone, all separately. But if you only have one device, and you are just fine, thank you, with the plan that you have, there is no sense to forcing you off of your plan and squeezing you into one that accommodates an iPad you don't own.