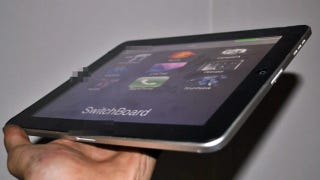 Auctioning off Apple prototypes is tricky business. If you're the seller, there's always the chance that Apple will try to shut you down, and ask for the device back. The man who was selling an iPad prototype with two dock connectors suspected this when he posted his eBay auction.
"I wasn't expecting the auction to finish. I was expecting Apple to take it down," he told Wired.
But Apple didn't contact the seller, who spoke with us on the condition of anonymity. In fact, the seller told us he expressly conducted his auction over the Memorial Day weekend because he figured Apple employees would be enjoying the holiday, not patrolling eBay: "I knew that Apple wouldn't be as active over the weekend, and I had a better chance of Apple not taking it down," he said.
Apple has a storied history of reigning in people who deal in, or posses, its prototypes. An eBay auction for a MacBook Pro with a 3G antenna was stopped by Apple, and the seller later returned the hardware to Apple. And of course, the iPhone 4 prototype that Gizmodo purchased in April 2010 led to criminal charges (later dropped) against Gizmodo editor Jason Chen. Most recently, in the summer of 2011, an iPhone prototype was lost in a San Francisco bar by an Apple employee. The resulting investigation entailed Apple security searching a citizen's home under the escort of the SFPD.