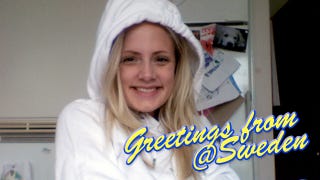 Earlier this month, representing her country from the @sweden Twitter account, Sonja Abrahamsson grabbed her 15 minutes by the balls and gave them an impressive tug. Irreverent, frank, and wildly popular, the 27-year-old mother of two doubled the account's followers with her controversial statements. Now that she's off Twitter duty, Sonja was nice enough to sit down to answer a few questions.
Hey Sonja. Congratulations on, what I think, was an incredibly great week on the internet. I'll admit that I was totally jealous of the trouble you caused. Could you tell a little bit about yourself. We know you grew up in the woods of Sweden and that you shot and skinned bears for meat as a little girl. How did you go from that to becoming the voice of Sweden on Twitter?


I was wolfbackriding while shooting white doves with fire when I got the email from Visitsweden. That's what they do, they send an email, asking you to take a red or a blue pill.
What do you do for a living when you're not the voice of a whole nation?


Not long ago, all I did was smoke cigarettes. Then I decided to quit smoking and I started to drink coffee instead. That makes me have go to the toilet all the time, so now I'm figuring about the next step. Except that I write a blog, a column and sometimes I talk on the radio. I don't do a lot of money. I'm poor.
Did you have a plan when you started tweeting as Sweden? Did you, like, say to yourself "this is a great opportunity to learn more about Jewish people" or was it all stream-of-concsiousness?


My plan was to tweet as I always do. When it comes to Jews, I saw the word "Jew" in my feed somewhere and I started thinking. Some people believe I wasn't thinking, but actually I was. I was thinking about Jews.