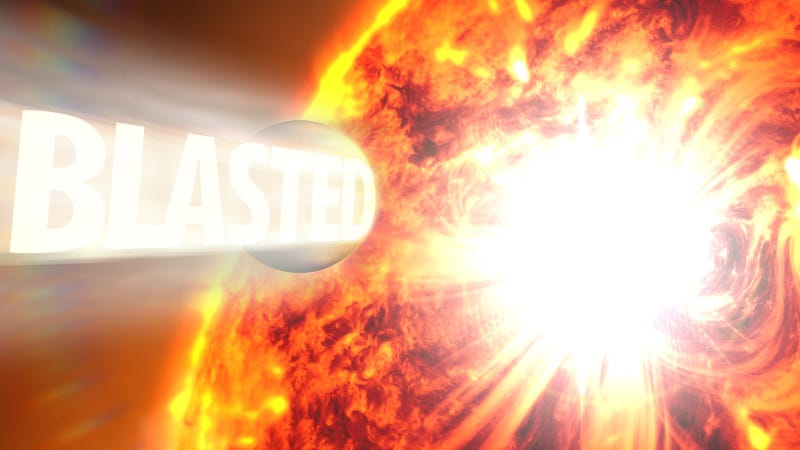 Imagine you're outside, walking happily on a beautiful sunny day. Suddenly, the light gets intense. You look up, and see a bright flash filling everything. Seconds later, a powerful wind starts pushing the clouds out of view at hypersonic speed. Buildings, trees, and people fly away, disintegrating into a billion pieces. Everything around you disappears and the sky is no longer blue, because the atmosphere has been blown away like a candle.
Sadly—or fortunately—you wouldn't be able to see this spectacular show, because you would have been dead a few minutes ago. But some lucky scientists have been able to observe this very thing—or something quite similar—for the first time and from a safe distance, on a completely different planet than Earth. It happened to HD 189733b, an exoplanet orbiting a star 63 light years away from us.
First, NASA's Swift telescope detected a furious X-ray flare from that distant star. Then, the Hubble Space Telescope observed as the nearby planet's upper atmosphere was blown away. The flare was just like the ones burped out by our Sun, but much stronger. In fact, scientists calculate that the planet received "three million times as many X-rays as Earth receives from a solar flare at the threshold of the X class."