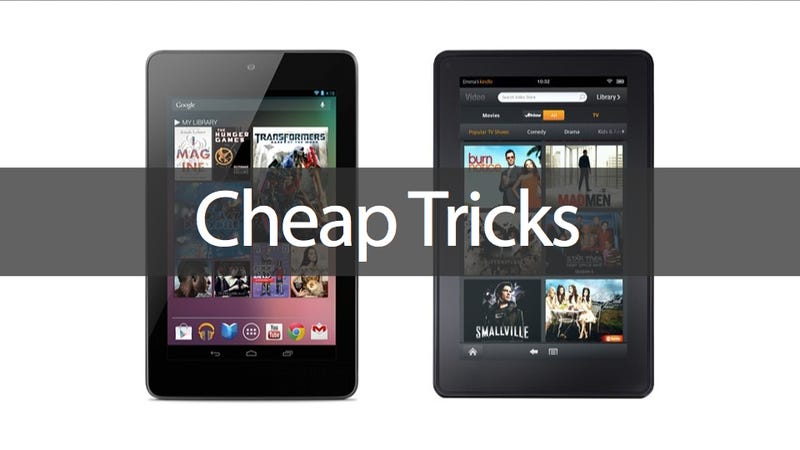 The most remarkable thing about Google's Nexus 7 tablet can't be found on its spec sheet. It won't show up in any benchmark, and it has nothing to do with that zippy new operating system. If you want to know the true significance of the Nexus 7, all you need to look at is the price tag.
How, you wonder, can Google make any money selling this for $200? The answer's simple: it doesn't. Like the Kindle Fire before it, the Nexus 7 proves that the only way take on the iPad is not just to undercut Apple; you have to undercut yourself. It's an incredibly aggressive strategy. And one that's going to have massive repercussions.
Too Cheap to Be True
You might have suspected there was something fishy about that $200 price point; the Nexus 7's guts may be more Toyota than Lexus, but Tegra 3 chipsets and 1280x800 displays still don't come cheap. More specifically, The Nexus 7 outclasses the previous budget champ—Amazon's Kindle Fire—in every conceivable way, for the same price. That goes beyond economies of scale and supply chain optimization. That's a kamikazi run.
Surprise! You were right. Google's Android guru Andy Rubin confirmed to AllThingsD yesterday that even when the Nexus 7 gets purchased from the company's own Google Play distribution channel, it "basically gets (sold) through," meaning it doesn't make or lose money. Which means at best, Google's tablet is break-even when you buy it directly from them. When you find it in a big box retailer? Google's throwing dollar bills out of the window of a moving car. Basically.
Oh, and keep in mind that Rubin explicitly wasn't including the marketing costs in that estimate, of which there will be many; how many of your friends know what Google Play is? How many of your parents?
So Google's taking a hit with every Nexus 7 it sells, presumably even more than the $2.70 Amazon loses on each of the millions of Kindle Fires it ships. Sounds crazy, right? It is—but not for the reasons you think.