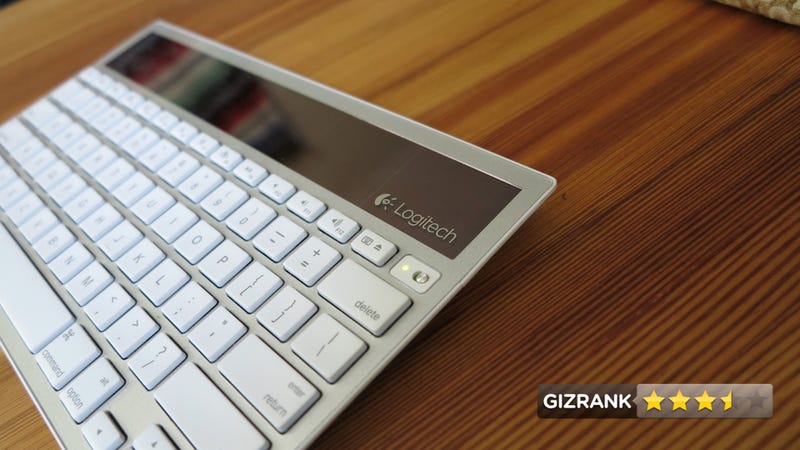 If you use a wireless keyboard, you know pairing with different devices and hunting down batteries can be the bane of one's tech existence. As a remedy, Logitech offers the K760 Wireless Solar Keyboard. It never needs batteries, and it quickly switches between Mac and iOS devices. The Apple Keyboard is beautifully designed—should you ditch it for this?
What Is It?
The Logitech K760 is a wireless, solar-powered keyboard designed for Apple devices (Mac, iPhone, iPad). It switches between the three with the tap of a key.
Who's It For?
Anyone who uses a wireless keyboard to compose on a MacBook/iPhone/iPad, constantly switches between the devices, and hates replacing batteries.
Design
Logitech mimicked the aesthetic of Apple's wireless keyboard with a silver and white color scheme. But the Logitech's incline isn't quite as steep, the keys have a deeper dimple, plastic replaces aluminum, and there's a giant solar strip across the top.
Using It
Simple. To pair it with an iPhone, iPad, or Mac, set the device's Bluetooth to active. The keyboard can assign a device to one of three hot keys. Tap the one you want. Follow the prompts and compose your next masterpiece.
The Best Part
The solar power. Never changing batteries is a tech sloth's dream.
Tragic Flaw
Build quality. The K760 just doesn't match the feel—both in the quality and performance—of Apple's standard-issue.
This Is Weird...
The keys are virtually same size as Apple's keyboards (though spaced ever-so-slightly wider), but for the first few hours, the keyboard felt totally alien.
Test Notes
Used at home casually over the span of two weeks.
Bluetooth hot keys basically tied for the Best Part. Not having to take your hands off your keyboard to quickly switch which device you're typing on is fantastic.
Typed this review with the keyboard. Didn't want to commit suicide by the end.
Compared to Apple, the keys feel a bit more clacky, and not as springy.
The plastic overlay on the keyboard is prone to scratching, and is especially visible on the solar panels. If you're trying to slip this in a bag, beware.

Should You Buy It?

If you are frequently typing long things on iOS devices at home or work, and you hate swapping out batteries, then absolutely. The thing works reliably and exactly as advertised. Now whether or not you'll like the feel of the keys or the overall look of the product is another thing. It just doesn't compare to the best products out there in that regard. But that wasn't really the aim of this product anyway.

• Price: $80
• Compatible Devices: Any Bluetooth-equipped Mac, iPhone or iPad
• Battery life: 3 months without light (fully charged, used 8 hours a day).
• Gizrank: 3.5