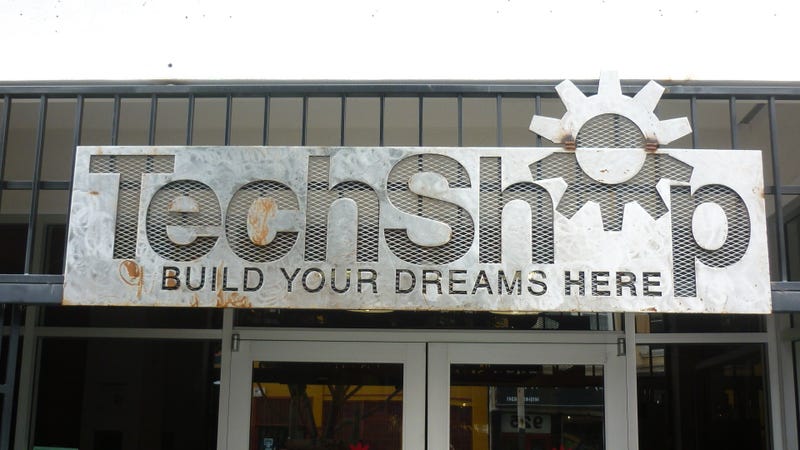 Some projects go beyond Vise-Grips and duct tape. Sometimes the only thing that will get the job done is a fully equipped metalworking shop with a 32 square foot CNC machine. But those things cost a fortune, and who has room for one, anyway? TechShop does.
This is Where the Magic Happens. These are our favorite temples of technology—secret spots where gadgets and culture converge. Welcome!
Techshop is a group of workshops with tons of equipment, capable instructors, and a community of like-minded builders. On a given day in the shop, you'll find people restoring motorcycles, fabricating prototypes, making furniture, sandblasting salvaged metal—just about anything, really. Techshop was founded in 2006 by Jim Newton, an accomplished Battlebots gladiator and the former full-time Science Advisor on MythBusters. After debuting in Raleigh, NC, the company has expanded to San Francisco, Menlo Park, San Jose, and Detroit, with plans to open locations in Brooklyn, D.C., and Pittsburgh.
Gizmodo recently toured Techshop San Francisco, a space in an old printing warehouse formerly owned by the SF Chronicle. The gallery above shows a few of the incredible things we saw. While the specific machines vary by location, each Techshop is set up with a machine shop, woodworking shop, automotive bay, crafting area (for jewelry production and fabric work), and general work area. Tools range from run-of-the-mill lathes, drill presses, and sewing machines, to state-of-the-art plastic injection molds, CNC machines, waterjet cutters, laser cutters, and everything in between.
Now, Techshop doesn't just let anybody play around with the heavy machinery. The workshop is a member-driven enterprise—dues run about $100 a month. And each member, before being let loose on a particular device, will have to prove his or her competence by first passing a basic safety course. The workshop also offers Pathway classes to help develop the skills necessary to use a machine's (and your own ) full potential. Project classes teach techniques based on a specific in-class project.
It's an amazing resource. Where else could you learn ironworking, powder coating, electronics soldering, designing in CAD, and the basics of bookbinding—all under one roof?