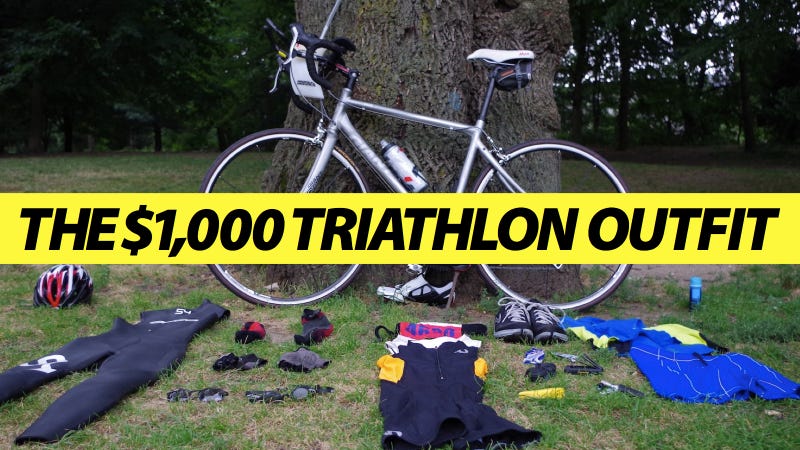 There are some significant barriers to entry in a triathlon. Physical fitness is one thing. What about all that gear?
People routinely drop thousands of dollars to get outfitted for the race. The investment—maybe even more than the 1500-meter swim—is enough to scare most people away. But doesn't have to be like that.
In a new department called The Outfit, we're going to show you how to put together a totally respectable, complete, not-at-all-crappy set of gear. The first installment is a triathlon outfit, including the bike, the wetsuit, and everything else, all for under a thousand bucks.
Methodology
I talked to a host of coaches, trainers, and seasoned triathletes for recommendations, read reviews, then called in and tested a ton of items. First, I ran a sprint triathlon. That was followed by the Olympic-length NYC Triathlon. For both races, I used our chosen gear, and everything I'm recommending performed excellently.
SWIM
Tri Suit: Pearl Izumi SELECT
This is your base-layer, and you'll be wearing it for the entire race (triathletes don't wear undies). There are a million shorts and top combinations you can go with, but for cost-effectiveness and comfort, I like the Pearl Izumi SELECT Tri Suit. It's silky soft, breathes extremely well, and it zips almost down to your bellybutton for additional venting. It has a small pocket in the lower back for stashing energy gels, and the lower legs are studded with silicone dots, which prevent the shorts from riding up. The fleece chamois provides just enough padding to make biking more comfortable, but not enough to feel like a diaper when you're running or swimming. Very aerodynamic, and best of all, chafing is extremely minimal. [$100]
Wetsuit: Orca S4
If your tri is happening in a warm body of water, then you don't need a wetsuit, and you have $200 bucks to spend elsewhere. USAT rules state that if the water temp is 78 degrees F or below, you can wear a wetsuit. At 78.1-83.9 degrees, you can wear one but you won't be eligible for awards. At 84 degrees and up, wetsuits are illegal.
There are serious advantages to wearing a wetsuit, most notably hydrodynamics and buoyancy—you just glide like crazy. For the money, the Orca S4 is an awesome suit. It really seals out water at the neck, it's very flexible, it's padded in the right areas (for added float), and it has a panel in the lower leg that makes getting it on and off faster and easier. I went with the sleeveless version for $190. If you're going to be in cooler water, or if you want even more efficiency, you might want to drop the extra $30 for the sleeved version. [$190]
Goggles: Speedo Speed Socket
Good news: a great pair of goggles doesn't have to be super expensive. Now, there is a ton of personal preference with goggles, and the absolute most important thing is that they fit you perfectly. They should be able to suction onto you eye sockets without needing a strap to hold them on there. Find a store where you can try some on. The Speedo Speed Socket fits me perfectly, and works for a lot of other people, too, thanks to the swappable nose pieces. I've been using the same pair since 2005. Love 'em. [$25]
CYCLE
Bike: Craigslist or Dawes
The bike is the single most expensive tool in your triathlon kit. It's not uncommon to see people drop five grand on a high-end tri bike. In order to get everything in under the $1,000 mark, we couldn't go above $400.
If you want the most bang for your buck, get a used bike off Craigslist or from a bike shop. I was able to buy a Giant OCR-1 (average retail $1,175) in near perfect condition on Craiglist for $400. One thing you need to be very careful of, though, is if you're buying a used bike with carbon fiber parts. CF is very good at disguising flaws and breaks. The bike may have been in a wreck, with the fork hanging on by a thread, and still look flawless.
If you want to go new, check out the Dawes Lightning DLX. It'll get you a lot of high-end components and still come in under $400. It's not fancy, but it'll do the job. [$400]
Helmet: Bell Lumen
Helmets are an absolute must for triathlons. Not just because they're required by the USAT, but because any time you're going fast on a bike (and are surrounded by other people going fast on bikes), death by head injury is a very real possibility.
High-end tri helmets look like weird alien heads. When you're getting started, you don't need that. You just need solid protection with decent aerodynamics. The Bell Lumen strikes a great balance there. It has great ventilation, it's easily adjustable, it looks cool, and it may have already saved my life. [$65]