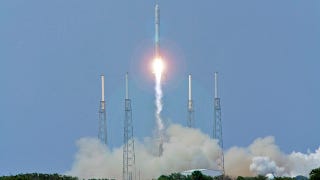 NASA may have shuttered its Space Shuttle program, but we knew that wasn't the end of manned American trips to space. Today, NASA shelled out 1.1 billion dollars to three private firms who have been working on spacecrafts of their own: Boeing, Sierra, and SpaceX.
Boeing has been working on its CST-100 space capsule for awhile now, even putting out an open call for potential pilots. But NASA pilots will also take the helm, as NASA has given the aerospace company $460 million to further develop the craft for use as early as 2016.
SpaceX will be modifying its Dragon Capsule—you know, the one that docked with the Interntational Space Station—to seat seven crew members, and will use the Falcon 9 rocket to send it up into orbit. Space X says that their craft is the safest ever. And judging from the $440 million in funding, NASA seems to agree.