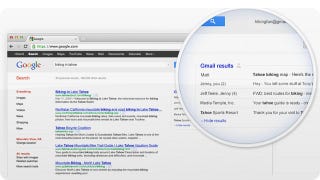 Google's going to start showing you relevant information from your Gmail when you perform a regular old Google search soon. But you can try it out now before it's official.
Your email is basically a huge repository for information that you need. That's where you store travel itineraries, party details, package tracking numbers, phone numbers, and countless other important bits of data. If you enable the trial, Google will pull relevant information from your emails and display it alongside your search results. Researching an upcoming trip, for example? Your airline confirmation email will pop up in a right-hand pane.
With the launch of Knowledge Graph earlier this year, Google's whole approach to search changed. Folding Gmail into search results fits right in with the new mantra. Before, Google wanted to provide you links to information. Now it wants to scrape the sources and provide you with the information itself.