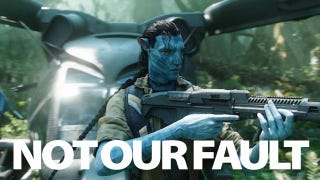 Do you know why people hate movie studios? Why, increasingly, they're driven to download content illegally, even though they're perfectly willing to pay for it? Because of crap like this:
LOS ANGELES, CA. (August 14, 2012) -– The world of Pandora has never looked better as over 33 million AVATAR Facebook fans were the first to learn of the upcoming release of the AVATAR Blu-ray 3D Collector's Edition, debuting globally beginning October 15, releasing in North America October 16, from Twentieth Century Fox Home Entertainment. A home entertainment experience like no other, for the first time ever, fans will be able to welcome James Cameron's global box office sensation into their homes in stunning 3D high-definition.
December 10, 2009. Avatar is released in theaters and goes on to become the highest grossing movie ever. Adjusted for inflation, it's number two all time. On April 22, 2010, it is released on DVD. It's now August 14, 2012. In what world does it make sense for the movie that basically defibrillated the entire notion of 3D movies to take three damn years to make a wide release on 3D Blu-ray? Ours, apparently.
Here's how we got here: Panasonic got in bed with Avatar early on, promoting the film with 103 trucks with giant 3D TVs on them. That was kind of cool, actually. But then, it turned out you could only buy the 3D Blu-ray with a Panasonic 3D TV. Which turned out to cost, all things considered, about 300 damn dollars for a $30 Blu-ray, no matter how you spun it. Totally dumb, totally anti-consumer.