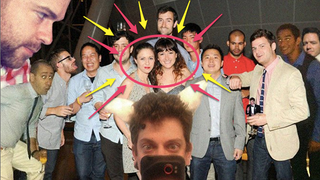 There are now two female staffers writing for Gizmodo, myself and Leslie Horn, and neither of us blew anyone for our job.
Some of you seem to be under the misguided impression that sexual favors are the only way a woman could possibly end up writing for a tech blog—wrong. And you know what? It's not just wrong, it's rude.
It's rude to come into our posts and say that the only reason we have the jobs that we do is because Gizmodo needed to fulfill some imagined gender quota. It's fucking rude to say that we're only writing for Gizmodo because we "lipstick shampooed" some guy's "jock" to "get our job." (Your over-evolved metaphor only further proves your immaturity; just say "blow job"!) But either way, if you say these things, you can bet your cowardly, juvenile ass you're going to get dismissed from the discussion.
Technology Is Not a Male Subject
It's not. Tech is a human subject. We all use all sorts of technology on a daily basis. In fact, an argument could be made that women use more tech than men do. You know what's a brilliant technology? The tampon. You know what else is? Condoms. The pill is a brilliant example of biotechnology. A pill that prevents you from getting pregnant! It is incredible! And ohmygod how about all the forms of implantable contraception. Technology, folks. That is also technology.