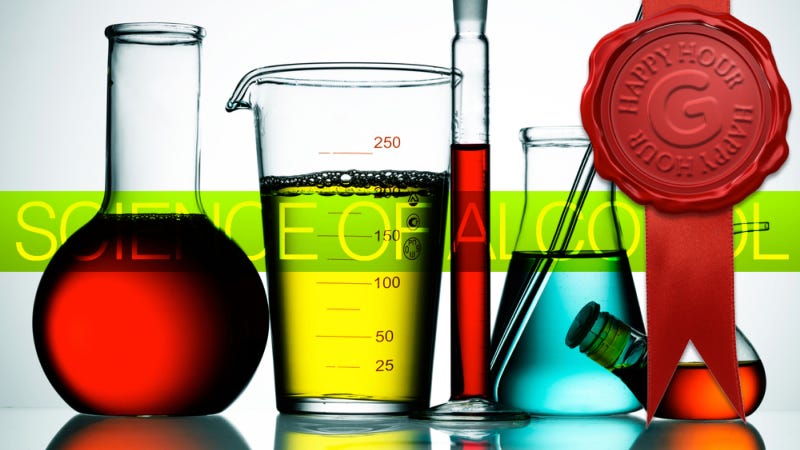 People sharing drinks love to lay out the facts of life, love, and, of course, liquor. Wouldn't it be even better if this cocktail science were actually right some of the time? Here are five bits of booze trivia that smart drinkers can use to blow their buddies off their barstools.
It's Friday afternoon, you've made it through the long week, and it's time for Happy Hour, Gizmodo's weekly booze column. A cocktail shaker full of innovation, science, and alcohol. Drinking don't make you dumber.
Alcohol Is Medicine
Yeah, alcohol is antiseptic, and wine's tannins are good for your heart. But it goes further than that. Alcohol is considered medicinal by U.S. and European pharmacopeias. According to "A Handbook of Useful Drugs," by State Medical Examining and Licensing Boards:
Internally, (ethanol) is a narcotic, excessive doses depressing and paralyzing the central nervous system. Small doses produce euphoria, stimulate respiration, moderately dilate the cutaneous and splanchnic vessels, and modify the circulation... Alcohol is employed as a diffusible stimulant, diuretic, diaphoretic and hypnotic.
Score! It's also used as a solvent and a means of administering medications. But it's not all wine and medicinal roses. They note specifically that in the majority of cases it's "apt to do more harm than good." Well, whatever. If a doctor could just prescribe a daily glass of Lagavulin, maybe the insurance company will cover 90 percent of the cost.
Alcohol Can Catch Fire at any Time
Ever wondered what proof alcohol must be for it to catch fire? Of course you have, you pyro. In ye olde days whiskey was tested for authenticity and alcohol content by pouring some over a small amount of gun powder. If the whiskey burned off and the powder ignited, it was considered "proof." That meant approximately 100 proof (49.5 percent rounded up). But now we know a number of factors change the flash point—when the alcohol will ignite, not necessarily burn steadily.
It's not really the liquid burning. It's the vapors that catch fire. Higher proof equals more vapor, depending on temperature. Hold a match to 80 proof vodka at room temperature, and it won't catch fire. Hold a lighter's flame or a butane torch to it, though, and it will ignite temporarily. This is because lighter's flame is heating the booze a little, and thus generating more vapor. If you carefully heat the vodka to a higher temperature, it produces a lot of vapor, and it can catch fire and burn energetically. (Note: Do not try to do this. You can definitely accidentally blow yourself up.)
This scales down to low-proof solutions. For instance, in cooking, if you add wine to a hot pan, it will flame up spectacularly, despite being only about 12 percent ABV (24 proof). Conversely, even 100 percent pure ethanol will not ignite if the liquid is 55 degrees F or lower.
There Are 4 Septillion Cocktails Floating in Space
Back in 2006, astronomers began finding great clouds of alcohol floating through the far reaches of space. Some of these clouds span approximately 288 billion miles. That's a lot of hooch. Unfortunately, most of that alcohol is methanol. Here on Earth, methanol is a byproduct of the distilling process, and it is very poisonous indeed. Good distilleries get nearly all of the methanol out of their booze. During Prohibition, a lot of people died because many bootleggers just left the methanol in the distillate, because it's cheaper and easier that way. (Update: As several commenters have pointed out, this isn't quite accurate. It's not so much that bootleggers just left methanol in the distillate, it's that they actually added methanol to it to give it more kick. That's where the major health problems came from.)
That's okay, though, because there is a lot of ethanol in the space booze, too. How much? Nobody knows for sure, but it has been estimated that there are well over four septillion ounces. In other words, that's four trillion-trillion drinks, galactic hangovers not withstanding. The role of these gaseous alcohol clouds is not entirely understood, nor is it known for sure how the alcohol got there. What is known, though, is that they play a large part in stellar nurseries, i.e. where stars begin to form. That's right. Thanks to alcohol, a star is born.