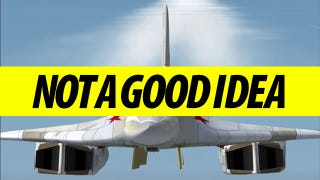 Top aerospace and defense company Tupolev is developing a new stealth plane that will replace Russia's mighty but aging nuclear strategic bomber fleet. Called the PAK-DA bomber, it will enter service in the mid-2020s, just in time to face the USAF's new stealth strategic nuclear bombers. But that's inoffensive compared to what's coming next.
The PAK-DA would be a standard nuclear bomber, with a on-board human crew controlling it. The next step, however, opens a potentially lethal and morally questionable Pandora's Box. Lt General Anatoly Zhikharev—the commander for that branch of the Russian Air Force—says that they are thinking about a sixth generation to enter service "around 2040-2050": unmanned long-range nuclear strategic bombers.
Somehow, the idea of having those birds in the sky makes me extremely nervous. You know, long range planes capable of flying for hours with a few nuclear bombs in their belly, with their wireless communication links ready to be intercepted and deciphered by hackers. Sure, the latter would be hard, but when it comes to computer security, there's nothing impossible.