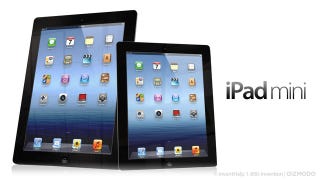 So there is probably an iPad Mini of some sort coming next month. But while what it will look like is still anyone's guess, we may have just gotten a pretty big clue about its insides—and they're more familiar than you might think.
Last night, Instapaper developer Marco Arment wrote about two new iPad 2 models showing up in his usage logs—iPad2,5 and iPad2,6. Those names seemed to indicate new models using the iPad 2's A5 chip, which Arment probably correctly argues makes more sense as an iPad Mini. That sounds about right.
Why This Makes Sense
Arment rightly pointed out that using the die-shrunk 32nm A5 to the iPad Mini would continue Apple's (and especially Tim Cook's) time-tested strategy of extending the life of already-developed technology by continuing to sell it, just cheaper. Filling in a product lineup with a new product built around that old tech is just a natural extension of the idea.
And Apple really gets every last drop out of its engineering. Consider: It's still got the iPhone 3GS in production, even though it was released in June 2009. The super efficient 32nm A5 was just pushed out this year. It makes total sense that Apple would be willing to use it as the foundation for a brand new product.
And considering an iPad Mini wouldn't have to push the massive amount of pixels of the iPad 3—probably not even a retina-level of pixels for its 7.85-inch screen—a drop back to 512MB of RAM wouldn't be the end of the world. Sure, the Nexus 7 has 1GB, but so did basically every Android phone when Apple ran out the 512MB 4S. And don't be surprised if price-conscious Amazon foregoes 1GB of RAM for less (and cheaper). The Fire's custom Android interface was actually really smooth, and it's probably not going to get that much of an overhaul. So an iPad with 512MB of RAM might not be as outgunned as you'd think. And it would help Apple be cost competitive with the cutthroat Nexus 7.