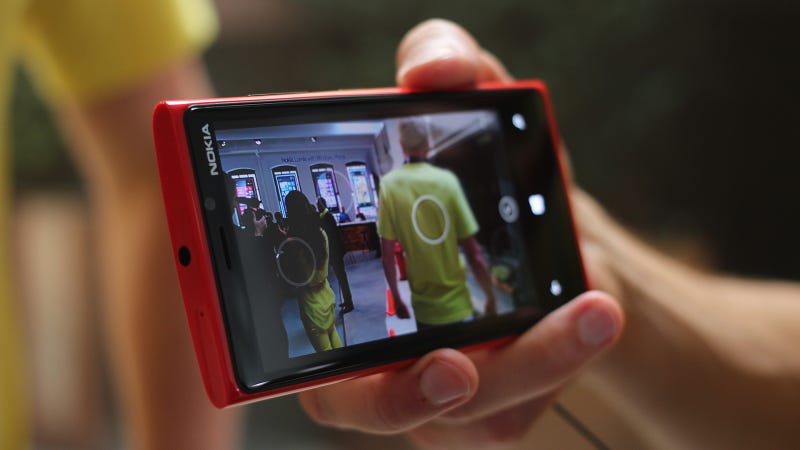 Here it is: The Lumia 920. This is the phone Nokia's staking its future on. Let's just take a moment and bask in that beautiful Finnish build. And then we can talk about the wireless charging, NFC, augmented reality, and everything else that makes this look like a killer phone.
The 4G LTE Lumia 920 is Nokia's flagship model, and potential savior. It's got a 4.5-inch curved glass screen, dual-core Qualcomm Snapdragon S4 processor, 1GB RAM, 16GB storage, unbreakable ceramic side buttons, and the "best new" PureView camera, though we're still not sure what "best new" means. Nokia's claiming that it captures between 5 and 10x the amount of light of competitors with a "floating lens" system. It stabilizes the lens to cut down shaky video and blur in low night photos. The demo video looks really impressive, but we're hoping to see it in person a bit later.
Still, the 920's 8.7MP PureView camera might is a bit of a disappointment coming from the 41MP monster sensor in the Nokia 808 PureView. But Nokia insists that the PureView cameras aren't any one feature, like the 41MP's "supersampling", but instead an idea of image quality. Right—but everyone knows PureView as the behemoth of megapixels, and it's probably going to be hard to shake that perception.
Nokia has opened aperture to f/2.0, and keeps the shutter open longer. And to eliminate blur, it's put springs around the entire optical assembly. The stabilization system is, by Nokia's standards and metrics, 50 percent better than that in other high end cameras.
The demo of the video stabilization is really impressive, but nothing compared to the low light performance of the PureView. Comparative shots of people with no flash in low light are hugely improved. If it works that well in real life, it will be a HUGE deal.
The camera also has a new feature called Smart Shoot, which uses the same technology as the Blink Lens app. You can shoot multiple shots of a person in a crowded room, and it compiles information to remove all the random people moving around.
And there's also this BOMBSHELL: Nokia cinemagraph! We have GIF-off! (Sorry.) It captures still images with some movement in a specific area of the screen, just like the iOS app.
It's also definitely got buit-in wireless charging, which is a really big deal. It's the first major phone to offer that convenience, and while you may not be sure why you'd want that know, you will once you've tried it.
The Lumia 900's also bringing got "true" offline maps for when you're not online, and it launches right into the very good Nokia Drive turn-by-turn app. It alerts you when you need to leave based on your transit time, and the indoor maps in WP8 even means you can get directions inside of subway stations. Pretty cool, if it works!
The City Lens Augmented Reality app does seem pretty cool in these demos, but the question with any AR app is how it looks in real life. Nokia maps is getting AR as well, with your route as well as points of interest along the way overlaid on the real world.
Also on board: NFC, that sometimes elusive feature that lets your phone replace your wallet. Windows 8's NFC strategy has so far outgunned Android's—and iOS doesn't have it yet at all—so it makes sense that the flagship phone would carry that flagship feature.