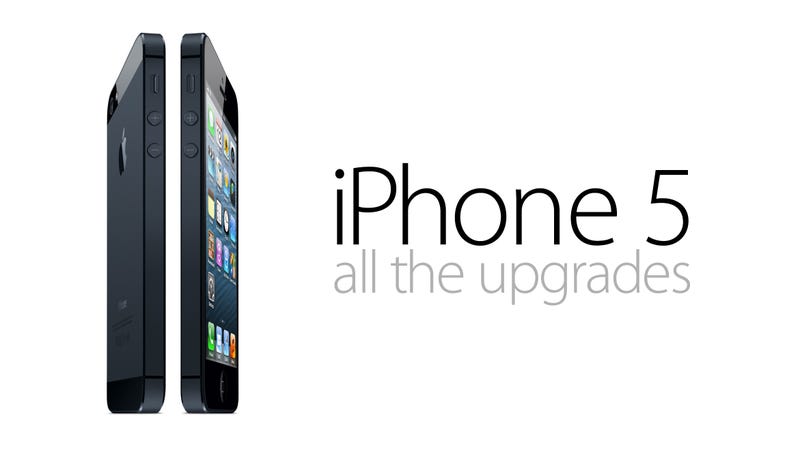 The new iPhone 5 is here. It's thinner and faster than ever, with a new form factor that uses a gorgeous panoramic screen with more resolutions and less consumption. It also surfs the web much faster, thanks to its new LTE capabilities. And, just as we knew, it has a new smaller dock connector called Lightning.
Overall, it seems they have incrementally improved every single aspect of the iPhone. It's not a revolutionary phone, but it is a very nice release.
Physical specifications
The iPhone 5 looks exactly as the leaked images: an unibody aluminum body with a glass screen. "It's thinner than the previous generation: 18 percent thinner, which puts it at 0.29 inches (7.6 millimeter). They are claiming this is the world's thinnest smartphone. It's actually the world's thinnest LTE smartphone.
It's also 20 percent lighter than the current iPhone, just 3.95 ounces (112 grams). It comes in black and white models.
Their new manufacturing method seems quite extraordinary. According to Jon Ive, they "have never built a product with this extraordinary level of fit and finish." They claim that the "variances from product to product is now measured in microns."
The screen
Apple claims that the new 16:9 4-inch panoramic screen has 44 percent more saturation than the iPhone, which makes the display full sRGB. The display has its touchscreen sensor built-in.
How does it work? Instead of having two layers, the pixels of the display and the touch sensors, Apple affirms that here "the pixels do double duty—acting as touch-sensing electrodes while displaying the image at the same time." Apple says that no other phone in the market has this, which Apple says is crucial to the iPhone 5's thinness, lower weight and—more importantly—its image quality. Since there's nothing between the glass and the pixels, the say the image is much clearer than before.
Connectivity
As expected, it uses LTE connectivity, so it will be much faster that the current iPhone 4S. It supports all the standards needed for all carriers: HSPA+, DC-HSDPA and LTE. Apple says that their single-chip solution works everywhere.
The iPhone 5 also has dual-channel 5GHz Wi-Fi—aka 802.11N. That means a 150Mbps maximum connectivity speed.
Brains
It also has a new CPU, the A6—which Apple claims is 2 times faster than the current iPhone 4S both in CPU and graphics. In real life, they claim it loads web pages 2.1 times as fast.
Battery life
If true, this is impressive: 8 hours of 3G talk time, 8 hours of LTE browsing, 10 hours of Wi-Fi browsing, 30 hours of video and 225 hours of standby.
Camera features
They have also updated the camera. On paper, it's better than the one in iPhone 4S with a new dynamic low light mode too (I wonder how it compares to Nokia's IOS) and a sapphire crystal. Knowing how scratched the glass on my iPhone is—making the photos not as crisp as when it was new—that's good news. Shapphire crystal is the hardest thing you can get this side of a diamond.
Like the 4S, it has five-element optics and a 8 megapixel sensor (3264 x 2448 pixel), backside illumination, a hybrid infrared filter, and a nice f/2.4 aperture.
The new image processing chip has spatial noise reduction, with a system to analyze which parts of the image needs to be noise reduced and which should be left alone. As a result of all this, they claim low light photography is now much better than before.
Here's an image taken with the new iPhone, which Apple claims it's completely unretouched:
Update: You can see other unprocessed images here.