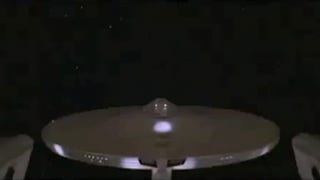 "Perhaps a Star Trek experience within our lifetime is not such a remote possibility." These are the words of Dr. Harold "Sonny" White, the Advanced Propulsion Theme Lead for the NASA Engineering Directorate. Dr. White and his colleagues don't just believe a real life warp drive is theoretically possible; they've already started the work to create one.
Yes. A real warp drive, Scotty.
When it comes to space exploration, we are still cavemen. We got to the Moon and sent some badass robot to Mars. We also have those automatic doors that swoosh wide open when you get near them, but that's about it. It's cool, but we are far from being the space civilization we'll need to become to survive for millennia.