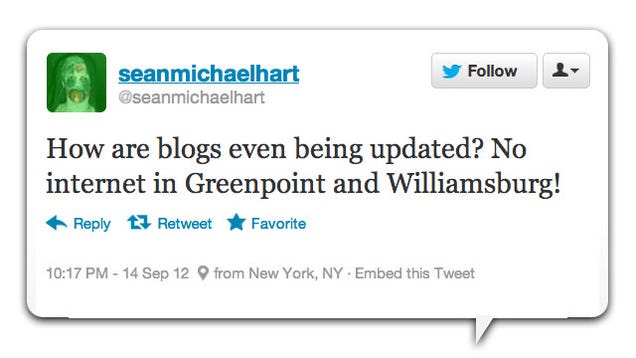 Confession: The majority of Gizmodo staff lives in Williamsburg, so we count ourselves in this mass of angry "hipsters."
But here's the deal: The Internet went down in Williamsbug/Greenpoint (Brooklyn) today at approximately 3:54PM (EST). And, seven hours later, at 10:56PM (EST), word on the street (by which I mean Twitter) is that it is still down. As of 11:31PM (EST) we have confirmation that it is BACK IN ACTION.
Here are some of the best reactions from the crowd:
The internet is down in Williamsburg. Haven't seen this many bored hipsters since they stopped selling Fourloko.

— The Bright Silence (@Bright_Silence) September 14, 2012
Probable truth.
Feel that? It was as if thousands of hipsters suddenly cried out in terror and were suddenly silenced by the Williamsburg Internet outage.

— Mary Varn (@maryvarn) September 14, 2012
"Hear that?" would have made more sense, but okay.
Like the Berlin Wall?
Time Warner internet is down in Williamsburg. Commence the 'hood going all 'Lord of the Flies' in three...two...

— James Comtois (@JamesComtois) September 15, 2012
...which is why, besides sheer necessity, I am blogging from Manhattan.
The plot for Newsroom/Girls season 2 crossover episode! "@alisonwillmore: Gah, internet is down in Williamsburg and Greenpoint."

— Matt Dentler (@MattDentler) September 14, 2012
:-/
I'd rather stay in Manhattan.
Lots of talk of rioting on Twitter. Lots.
Grab yer boomstick!