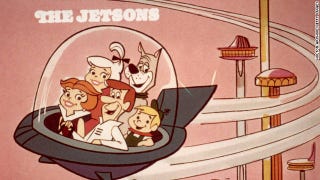 Yesterday, The Jetsons celebrated its 50th birthday. It may seem like we're living in the future these days, but, half a century after the show's original 24 episode run, we still don't have a lot of that juicy future-tech. Here are a couple of the most glaring absences.

Robot Maids
So we've got Roombas, and that's a start, but we don't have any kind of robotic assistance that's remotely like Rosie. And she was an old model. Maybe if you gave Siri a little more personality and crammed her into ASIMO, you'd be about half-way there. But let's face it; we're a long way off.
Flying Jet Cars
Sure, we've got vehicles that purport to be "flying cars", but those don't count. The Jetsons' personal little space car doesn't need any wings or rotors, is totally ubiquitous, and even has some kind of departure-pod system. Also it folds into a suitcase, which would probably be against the laws of physics. The car itself doesn't seem to be self-driving though, so we're ahead of the curve there.