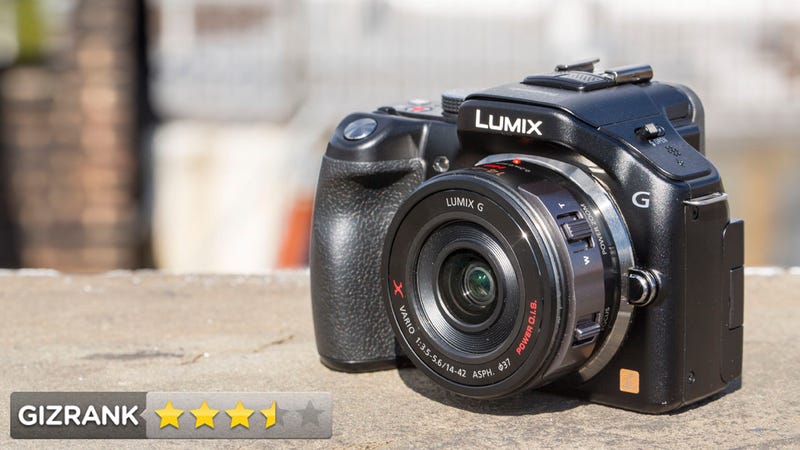 With all the retro-styled mirrorless cameras today, the traditional DSLR form factor seems relegated to nothing but, well, DSLRs. The Panasonic G5 is a mirrorless camera clinging hard to the classic DSLR mold. But it's smaller—and much cheaper.
What Is It?
A $699 interchangeable-lens camera with an electronic viewfinder and a four-thirds sensor.
Who's It For?
Not for enthusiasts or pros—they want better guts. Not for casual point-and-shooters—they don't care about interchangeable lenses. That leaves people who are transitioning from beginner to advanced, and want to learn how to properly control a camera.
Design
Like a shrunken DSLR. Light, plastic, but solid all around. A flip-out touch screen, electronic viewfinder, and a bunch of buttons and dials make for a busy but robust set of controls.
Using It
You have a lot of control—a dedicated mode dial, a rocker for aperture adjustment, a wheel for shutter speed, a programmable Q button, an ISO button, and THREE other programmable function buttons. Autofocus is quite speedy. Image quality is solid but not stellar—check out our Flickr gallery.
The 14-42mm f/3.5-5.6 kit lens is optional, but most people will purchase the camera as a system with this lens. You control its zoom and focus via small electronic rockers on the side of the barrel. This might appeal to shooters more familiar with point-and-shoot cams, but more experienced users will find it slow and frustrating.
The Best Part
If you are stepping up from a point-and-shoot, welcome to the wonderful world of micro-four-thirds lenses.
Tragic Flaw
The touchscreen is horribly unresponsive compared to a modern smartphone (or the great touchscreen on the Canon Rebel T4i).