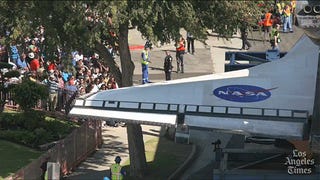 Check out this animated GIF. It's the toughest moment of the space shuttle Endeavour's drive across Los Angeles, en route to its permanent retirement place, at the Science Center.
I extracted these frames from LA Times' Bryan Chan spectacular timelapse of NASA's Space Shuttle Endeavour's last journey. Last and crazy, as you will see. Not only she had to weather the crowds, but get through really tight places. At some points it was almost touching trees and houses. This was the worst.
---
For context, here's a wider angle:
Endeavour was the second-to-last shuttle to fly to space, in May 16, 2011. Atlantis was the last one.