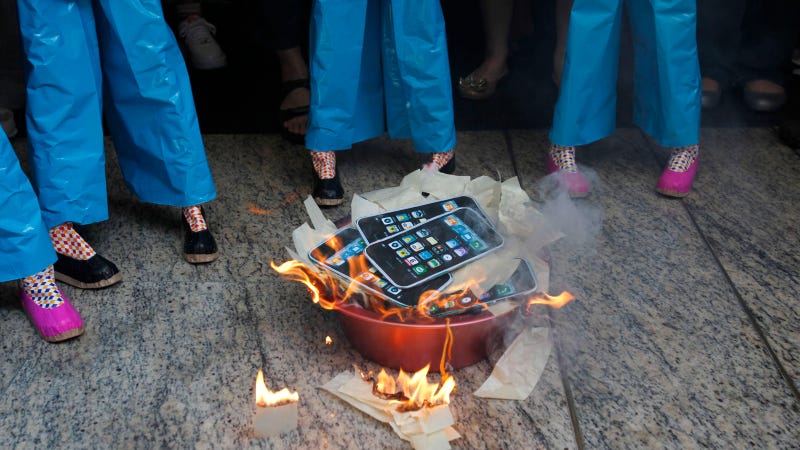 So many things are made in China: DVD players, handbags, adorable shoes, kitchen gadgets, watches, t-shirts, laptops, and more. Some of them are made in happy, shiny factories. Some are born out of deplorable labor conditions that ruin and cost lives. We usually don't know which.
But it's different with Apple and its widely publicized manufacturing process: From Cupertino, we hear about the meticulous process created to make your perfect iPhone and iPad mini. From China, we hear about how that process involves child laborers, impossible expectations, and brutal management. And we accept it. We didn't used to put up with Chinese labor violations—so why now? When did owning the best phone become worth letting people get hurt?
Decades ago—decades which feel particularly stretched from today—concerns over the Chinese labor behind beloved American brands lead to investigations, outrage, boycotts, and, most importantly, reform. Nike shoes and Gap jeans flirted with grim stigma: They were tainted goods. An increasing number of Americans, armed with voting dollars and a vague sense of globalized ethics, didn't feel comfortable wearing sweatshop apparel. They didn't want to buy things that were made by children who lost fingers or women on half-day shifts in cramped sewing machine bunkers. Because dollars spent that way justified the process. When you wittingly buy something that creates bad for people anywhere in the world, you're in on it—that's simple enough. Their loss is your Game Boy.
We threatened to stop buying these things, or at least turn our nose up at them enough that the companies in question actually changed. In 1998, the New York Times reported on Nike's Chinese atonement:
The campaign against sweatshops has gained momentum in the West in the last few years. Last month, for example, Nike Inc. bowed to pressure and agreed to far-reaching changes in labor practices at factories that churn out its shoes. Nike said it would raise the minimum age for new workers to 16, admit outsiders to inspect the factories, and improve air filtration to meet United States factory standards.
Anti-Nike protest, 1997
And then Apple started making something more glorious and wallet-penetrating than Jordans, a manic status object which made Apple the largest company in the history of capitalism. The latest iPhone—the best phone ever made—is also "the most difficult device...ever assembled," according to Foxconn executive who spoke to the Wall Street Journal. But, he added ominously, "Practice makes perfect." Good thing, because perfection is what we expect after a year of aching anticipation, media hype, and general silicon lust.