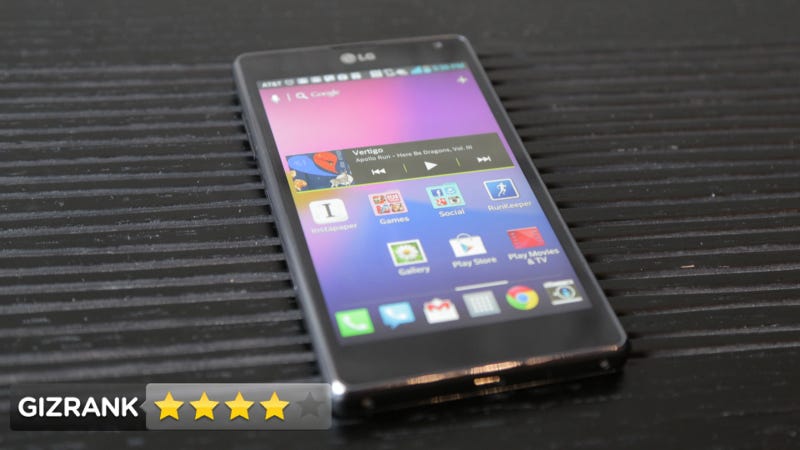 Say this for the Optimus G: it doesn't skimp. LG went for broke to shake off its mid-range reputation, cramming its latest flagship Android phone full of goodies. But specs don't always equal performance.
What Is It?
LG's best attempt at a high-end phone. It runs Android 4.0 (Ice Cream Sandwich) with LG's custom UI 3.0 skin. It's available in slightly different AT&T and Sprint versions.
Who's It For?
Android users who crave some real horsepower.
Design
In both of its incarnations, the Optimus G is extremely rectangular by today's standards, and it feels solid. It's got a 4.7-inch "True HD IPS Plus" screen under Gorilla Glass 2, powered by Qualcomm's new quad-core Snapdragon S4 Pro, 2GB of RAM, with a 2,100mAh battery, LTE, and NFC along for the ride. The AT&T model has an 8MP camera, whereas the Sprint and unlocked versions have 13MP cameras.
Note: We spent the majority of our time with the AT&T version. We did, however, use the 13MP version for photo tests.
Using It
Your first thought will be "Holy crap, it's fast!" You're right. Your second thought will be, "Wait, where the hell are those settings I want to change? What the hell is wrong with these menus!?" You're right again. The speed makes up for it though. Apps fly open, and there's no lag anywhere in the system.
The Best Part
Again, it's the speed. We don't put a whole ton of stock in benchmarks, but it soundly beat everything else in some of them (Geekbench 2), and was always at least in the top five on others. It actually makes the Samsung Galaxy S III feel slow by comparison.