Surface was the single biggest genuine tech surprise of the year so far. Microsoft tantalized us with a tablet that made the iPad look stale. Its snap-on keyboard made all laptops look immediately old fashioned. And it promised The Future of Computers.
We hadn't looked forward to something this much in a long, long time. Now it's here. And it's been just as long a time since a gadget has been so disappointing. Surface is good, but Surface RT sure isn't the future. Not yet.
Why it matters
The laptop is about as far advanced as one can imagine. The MacBook Air and a horde of ultrabook clones are hitting a brick wall in terms of form and physics. The tablet, likewise, isn't exactly pushing civilization forward; it's still fundamentally a luxury device, a delightful toy for reading email on the couch or watching Netflix on an airplane. Nobody needs a tablet. It's a lovely, superfluous thing. But everyone needs a computer, unless you're planning on living by a lake and trading furs for a living.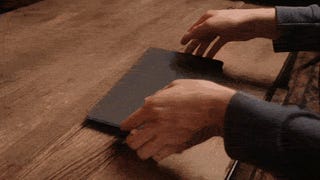 Microsoft's pearly promise for Surface was to pioneer a strange new kind of gadget: all the grace and leisure of a tablet, combined with the ability to actually make stuff that a computer brings. Convenience with input. Type, edit, change. Work. Power! Microsoft claims outright that Surface will bring together the best of everything that exists—the elusive union of laptop and tablet. Or at the very least, with Surface RT, a tablet that you could actually use as your primary computer.
The men who built the Surface from a pile of cardboard prototypes into the thing I've been using for the past week stood in front of me at their headquarters and said exactly that. Microsoft is trumpeting a historical change here. And it has a recent track record of building exceptional things. Sure, there's a Surface Pro version coming up that'll have full, powerful laptop guts, and run the same software any PC can—Microsoft's best shot at being your only computer, forever. But even this RT variant is supposed to give us some overdue synthesis. Plop it down on your desk and get things done.