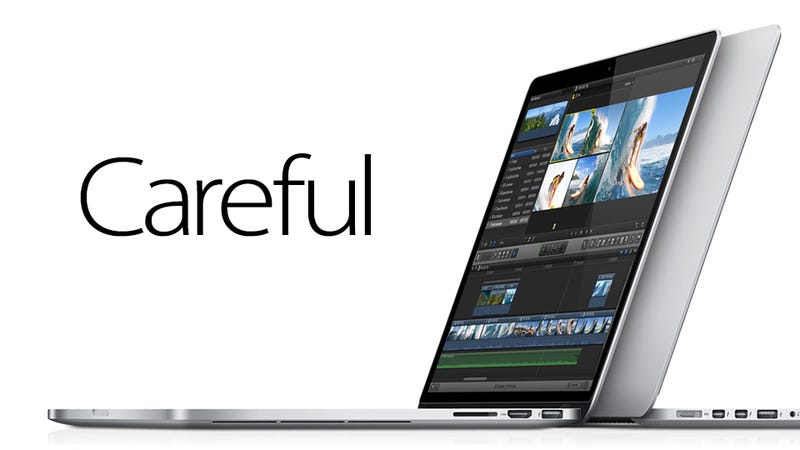 From the first time we saw the 15-inch Retina MacBook Pro, we've been thinking: "Well, that's great, but can it be a little smaller?" Done. You can now buy a beautiful, bright, pixel-perfect display attached to a souped-up ultrabook.
But the new models might not be everything you dreamed of. Here's a guide to figuring out which version you want (if you actually want one).
For Almost Everybody:
It's the Core i5 2.5GHz (Turbo Boost to 3.1GHz) processor, with 256GB storage.
Why the 2.5 GHz processor? You will use this thing like a MacBook Air with a Greek god of a screen. And this processor clocks faster than the processor the current Airs max out at, the top-end Core i7 2.0GHz processor. It'll run your programs more than adequately, even if things like encoding time won't blow your shoes off.
Why 256GB? You don't want to be paying for too much onboard SSD storage, given how expensive it is. Only 128GB is a pretty tight squeeze—especially given how massive some professional software installs can be. Having 256GB is a nice medium, and you can add high-speed external storage with Thunderbolt.
But, There Are Exceptions:
Take a second before deciding you're definitely getting a 13-inch Retina MacBook Pro. Yeah, super high resolution screens are great. We're excited about them all, especially that pie-in-the-sky super HD Samsung Series 9. But you need to take a good look at what you're actually getting in this machine. Traditionally, despite their popularity, 13-inch MacBook Pros have been one of the worst buys in tech.